Curriculum Night at Chief Sealth International High School
Posted on: October 7, 2022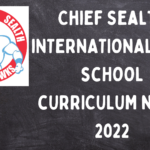 Chief Sealth's In-Person Curriculum Night is
Thursday, October 13th from 5:30-7:30 pm.
We are so excited to have our families back in our school for Curriculum Night this year. The format will look a little different from previous years, but the goals are the same!
We look forward to:
Building connections and community
Providing a calm experience
Giving families an overview of their student's Sealth experience
While more details will follow, the schedule for the evening is:
5:30pm to 6:10pm: Dinner is provided for all families
6:15pm to 6:40pm: Administration presentation in the Auditorium
6:45pm to 7:30pm: Families meet in separate spaces for grade level presentations and the the chance to learn about their students' Sealth experience this year.
Translation services will be provided, so mark your calendars! We look forward to sharing the evening with you.