About
About Chief Sealth International High School
As a Seattle Public Schools International School, Sealth offers a high school curriculum with the following characteristics:
A global perspective in every content area
Robust World Language offerings, including continuation from the Concord and Denny dual-language Spanish program
21st-century college and career readiness
State of the art technology and innovative teaching
Teachers and Staff with Multicultural Competency
Chief Sealth is a comprehensive high school that offers a wide array of opportunities for students who value learning in a dynamic,multi-cultural environment. It is an exceptional place that celebrates innovation and individuality. As a center of international educational excellence, we provide students opportunities to study the world both in the classroom and beyond. Our academic and arts offerings, our career preparation, and our athletic programs focus on educating global citizens.
Students who attend Chief Sealth value the openness of the school community, and the opportunity to participate in a wide range of academic, athletic, arts and club activities, which connect their high school experience to what?s important in their lives. It's a place where students can excel, be themselves, and find a place where they belong.
One of the cornerstones of this internationalism is our rich cultural diversity, and our interest in multiple approaches to knowledge.
This multiculturalism finds expression in a wide range of offerings including our mariachi band, world language classes including Arabic,Spanish, Japanese, and Mandarin Chinese, exchange programs to China and Guatemala in addition to our International Baccalaureate (IB) Diploma Program.
Diversity is a key to excellence in education. Sealth is committed to enriching the lives of our students, faculty, and staff by providing a diverse campus where the exchange of ideas, knowledge, and perspectives is an active part of learning.
Chief Sealth High School has been recognized as one of the few Seattle Public Schools that remains a "community" school. Most of the students live close to the school, many of the alumni live near the school, and many of the students are children of Sealth alumni. We are committed to rally our neighbors in West Seattle around the positive activities a tour school and for our students to reciprocate that pride and enhance our community.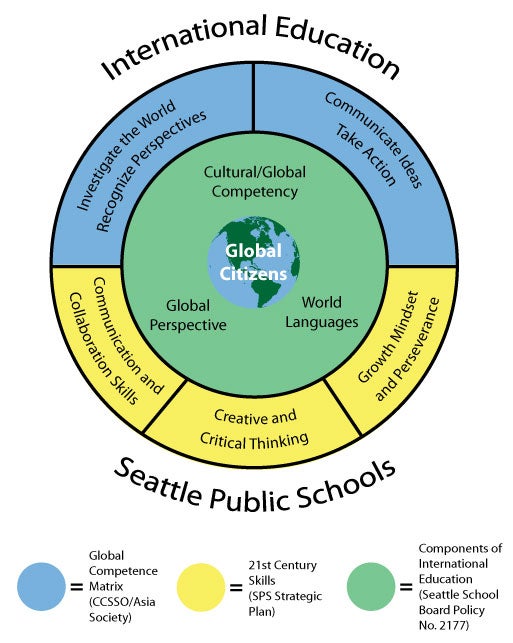 ---
Our Mission and Vision
Chief Sealth International High School fosters global awareness and academic success through a challenging and engaging curriculum in a safe and supportive environment.
Our Vision
The entire Chief Sealth community actively learns,facilitates growth, collaborates, and thinks creatively and critically with one another.
Mission and Vision Statement 2021
After more than 10 years, we are in the process of revisiting and rewriting the Chief Sealth International High School Mission and Vision statements, and we would like your help.
Community Members: While the students and staff will complete their surveys in classes, the community is invited to use the following link to share answers.
Please take the following 4 minute survey to provide your input so we can create a concise description of the mission and vision of our school.
Thank you for your time!
---
Contact Us
2600 SW Thistle St.
Seattle, WA 98126
Main Office: 206-252-8550
Fax: 206-252-8551
Ray Garcia Morales
Principal
ragarciamora@seattleschools.org
Erik Weiss
Assistant Principal
erweiss@seattleschools.org
Christa Ernst
Assistant Principal
crernst@seattleschools.org
Donna Veenhuizen
Administrative Secretary
dmveenhuizen@seattleschools.org
Debbie Taylor
Assistant/Athletic Secretary
djtaylor@seattleschools.org
Patrice Robinson
Counseling Secretary
plrobinson@seattleschools.org