Safety Alert System
We are implementing a new feature to quickly communicate to staff, students and families about "real time" safety incidents/threats. We want to quickly and efficiently communicate when our school is in Lockdown, Shelter in Place or Evacuating. This is an "opt in" only system – standard text messaging rates apply. Brief messages to all who are registered will be transmitted when the school enters a safety status and when the school is "all clear" and the emergency is over.
The messages will be brief and will be followed with an email and/or letter regarding incident details within 24 hours of the incident itself. Examples of text messages are:
"CSIHS Safety Alert: Lockdown 9:31 AM"
"CSIHS Safety Alert: Lockdown All Clear 9:45 AM"
"CSIHS Safety Alert: Shelter in Place 1:30 PM"
"CSIHS Safety Alert: Shelter in Place All Clear 2:01 PM"
As a large comprehensive high school, we have students and families coming and going from our campus at all times during school hours. We want to be able to quickly ensure the safety of all by implementing this safety measure so students and families can make informed decisions.
We are committed to safety. The alerts will come as soon as possible after we have secured the building. As always, we value and welcome your feedback. If you have any questions, comments or concerns please contact Christa Ernst at 206-252-8559 or crernst@seattleschools.org.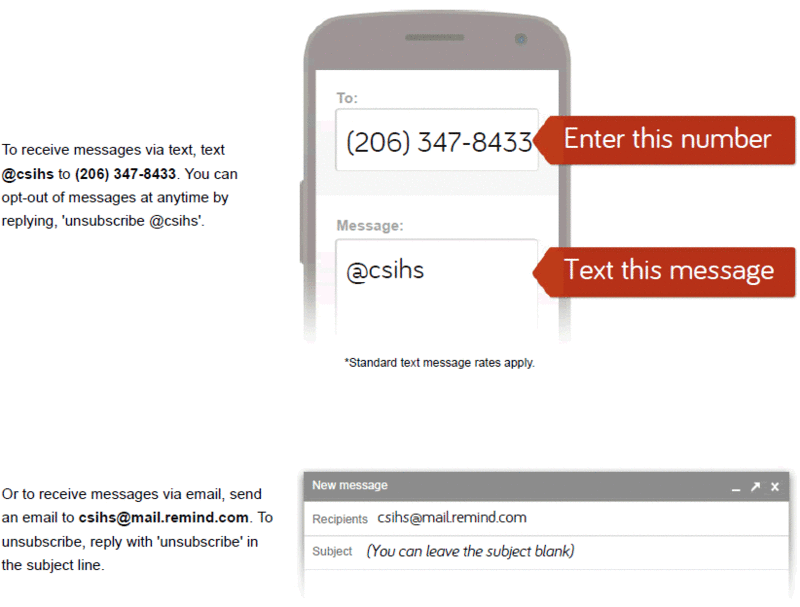 What is Remind and why is it safe?
Remind is a one-way text messaging and email system. With Remind, all personal information remains completely
confidential. Teachers will never see your phone number, nor will you ever see theirs.
Visit Remind to learn more.